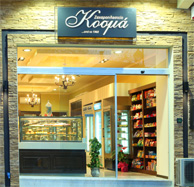 Guided by tradition since 1960, using selected pure and fresh ingredients, we ensure the excellent taste and quality of our products based on our experience and expertise.
With modern equipment and following all sanitation methods, our family business creates sweets with the strictest manufacturing specifications and constantly enriches the wide variety of its products.
If you would like to try fresh, healthy and tasty treats such as our famous sweet touloumpa or if you want to add a subtle touch of flavor to your special occasion...
Kosma pastry shop welcomes your visit!