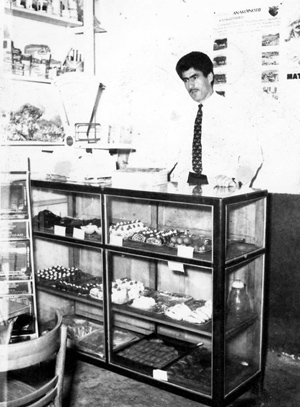 Konstantinos Kosmas, a restless spirit, after he occupied first with the commerce, the destiny decided that he should get in touch with pastry making.
He went to the town of Thessaloniki on fifties and trained in big and famous patisseries of season.
In 1960 and even before electricity comes in the area of north Chalkidiki, he opens a small pastry shop in the town of Arnea.
He occupied with a lot of sweets such as shortbread, baklava, carioca, cakes with fluffy cream patisserie, touloumpa and ice cream (the first of it 's kind for the season).
In the same space, he was keeping up a coffee grinding where he was roastig coffee from the best varieties, creating in this way quality blends of fresh coffee with which he was suppling all north Chalkidiki. This success led him to extend his pastry shop and to create a space with chairs and tables, which became in that season the haunt of young and older people who were whispering the characteristic phrase "date to the Kosma Pastry Shop".
In 1987 he transports his pastry shop to the central square of Arnea in a self-owned space where he was offering sweets to local people and travellers, as well as the famous, to all north Greece and not only there, sweet Touloumpa of Kosma pastry shop.
Today, the second generation, continues the tradition in a modern and completely renovated store, using fresh and pure materials from selected suppliers and from the best companies of Greece and abroad. In this space are being prepared in a big variety, sweets and ice cream with love and will, in order to satisfy and the most demanding customers of our business.
Our pastry shop welcomes your visit and we want to believe that the quality of our products deserves to be a tasty destination which will give you the joy of delight and satisfaction.